Any pics of where you drilled? If not retired, what does one do for an occupation in Jamesville? Farming? Chicken raising? Not being wise ass .......... just curious. Will be riding by on Friday on my way to OBX.
Farming- Hunting- Fishing Lodge owner -Sporting Clay Range owner .If riding by Friday you can pm me for my cell# and stop by or if I can will ride out to rt13 and you can see for yourself.
Tom
---
BIRDDOG51
2012 ROYAL BLUE GTL
2006 HARLEY ULTRA CLASSIC SOLD
1993 HARLEY ELECTRA GLIDE SPORT SOLD
Just completed this mod on my stock gtl exhaust this afternoon. Used a long 1/4 " bit to drill upper and lower tubes centrally. The sound was slightly deeper. While my adrenaline was elevated I then opened them to 1/2". The sound is appreciably deeper and noticeably more throaty. Test riding, I convinced myself that I noticed a little more power but minimal if any by seat of the pants dyno! The sound however is much nicer at all rpm levels. It is not annoying or disturbing to the rider, riding pals or loud enough to disturb others. Drill slowly and keep the bit from over heating by using a penetrating fluid. I removed al metal shavings with my trusty telescoping retrieval magnet . Took approximately 30-40 min total. I am pleased with the results and will certainly report if any negatives develop.
Any Pictures of this yet. This idea sounds like a good one to do for a 2nd mod to the bike as the 1st one had to be the Altrider crash bars.:gm
Do any of you that have done this notice any lean running conditions?

Have you checked the spark plugs to see if they may too "white"?
Would a Stainless Steel Hole Saw work for this? Anyone use that or Drill Bits?
Senior Member
Join Date: Jun 2012
Location: Paulden, AZ (in the Prescott area)
Posts: 3,235
After reading this thread and wanting to do this mod. I got off my duff this morning and drilled out my exhaust. I started with a 3/16" diameter drill bit and opened that hole up to 3/8" seeing as how those were long drills that I had handy at the time. My brother has a GT and I always liked the throaty sound coming from his bike better than what mine sounded like.
I used cutting oil and had to sharpen both drill bit points a couple times before the job was done. I just let the drill point go where it wanted and had to ease up a bit on the pressure to keep from having the point grab. I drilled the top and bottom holes on both exhaust pipes.
Now I need to wait for the unsolicited "that sounds cool" comments to complete the job.
Here is a picture (the best I could take) of what the hole looks like.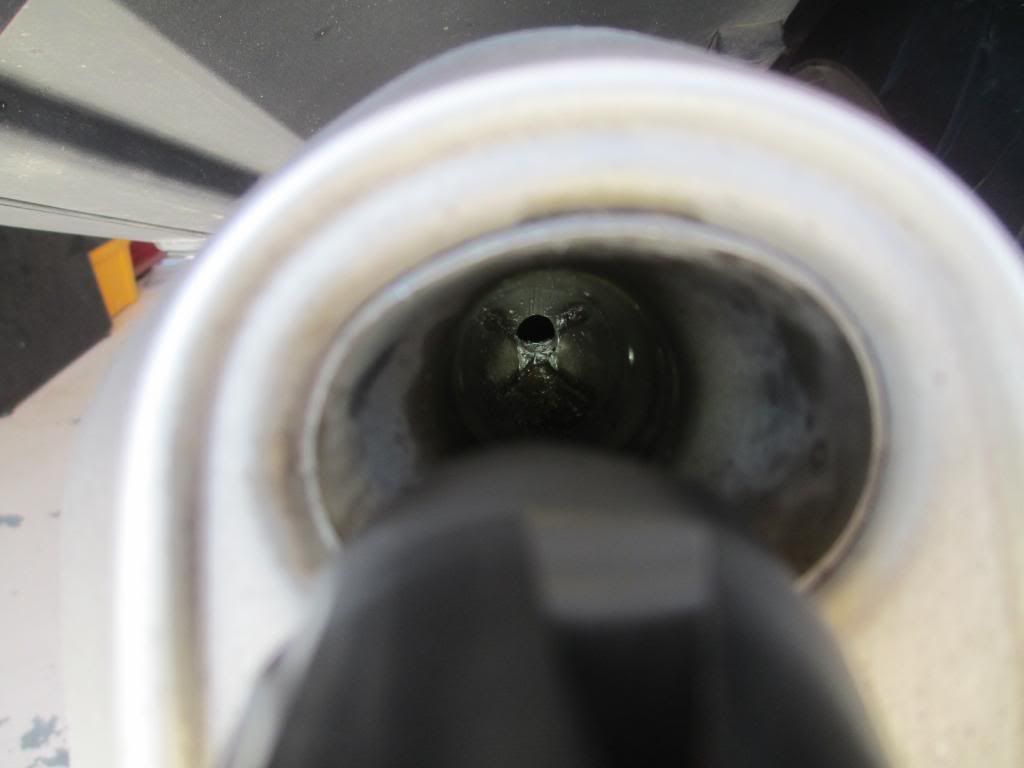 ---
2012 Mineral Silver GTL
1975 Daytona Orange R90S
IBA#9293 BMWRA#41092 BMWMOA#185857
I do not know if the stainless hole saw would work well or not. The drill bits used slowly worked well for me.
As for pics or questions about where to drill ... the way the ports are plugged will only let you drill in the centers unless you were to really really try to drill at a different angle.
This mod now complete. Took about 15mins. Started with 10" long 5/32 punch. Cut through steel with ease. Once big enough used a 10" 3/8 punch. Nice and clean and no shavings to clean. Started with the drill but chip first bit. So used planned be to my amaze. Nice deep sound and not annoying to hear.
Sent from
Motorcycle.com Free App
---
Scott
2013 GTL 1600 Dark graphite metallic
2009 Yamaha WR-450(SOLD)
2006 Yamaha YZ-250(SOLD)
2006 CR500 Custom built in a CR250 frame(SOLD)
1984-Honda V45 Magna(First Bike at 16)
Posting Rules

You may not post new threads

You may not post replies

You may not post attachments

You may not edit your posts

---

HTML code is Off

---