Sponsored Editorial Content
Join Date: Jan 2014
Posts: 78
Five Ways to Keep Your Motorcycle from Being Stolen
---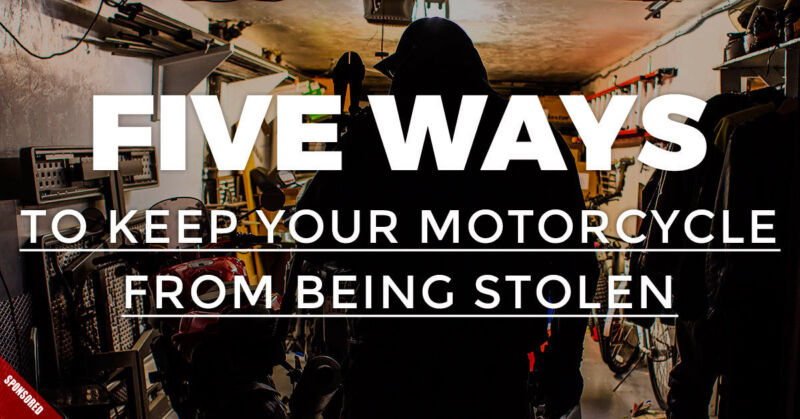 Quote:
If you own a motorcycle, you are a target for motorcycle theft—and it doesn't matter how fancy or filthy it is. Obviously, big-buck cruisers like Harley-Davidsons and tricked-out $15,000 sportbikes are tasty treats for thieves, but vehicle theft is sometimes a crime of opportunity, so here's five ways to keep your bike safe, no matter what it is.

Motorcycle thieves, although usually not great at career planning, are very clever, practiced and good at what they do. That means they can work incredibly fast, defeating multiple security systems and locks in minutes or even seconds. Their strongest weapon is speed, so your best defense is to make it as complicated as possible to get your bike, so they'll look for an easier target.
Read more about the
Five Ways to Keep Your Motorcycle from Being Stolen
.
Member
Join Date: Mar 2017
Location: Near Ocala Florida
Posts: 65
Or carry a couple of guard dogs in your saddle bags, pop the latches when you walk away. Voila!
Senior Member
Join Date: Jun 2012
Location: Paulden, AZ (in the Prescott area)
Posts: 5,634
Mount a large frame pistol holster on your handle bars.
that will keep them guessing.
---
2016 Glacier Silver/matte blue vinyl wrap GTL
1975 Daytona Orange R90S
IBA#9293 BMWRA#41092 BMWMOA#185857
2004 Red Corvette
2005 Jeep Rubicon Wrangler
1950 Chevy Pickup
Member
Join Date: Jan 2017
Posts: 83
No amount of chains, locks, alarms, etc will stop a good thief. If a good thief wants your bike, it is theirs. Use common sense and have good insurance.
Of you could ride a BMW. When on the road, I always liked to park mine next to a HD for added security.
---
Dave Beck
'16 K1600GTLE
'07 K1200LT (sold 9/24/16)
'74 Suzuki GT750L (long, long gone)
when me and my buddy did a four corners USA tour back in 2015, we stayed on military bases when we could get rooms - being retired USAF comes in handy
---
Scott
2015 K16GT
All gone: R1200RT LC, R1200 GS ADV, K1200 LT, R1150 GS ADV, ST1300s, R100 GSs, R1100 RSs, R100GS/PD
Senior Member
Join Date: Dec 2012
Location: South Carolina
Posts: 2,166
Five Ways to Keep Your Motorcycle from Being Stolen!!
---
Good article. It helps to park where you can easily see your ride. Consider making sure all items that can easly be removed are taken indoors with you. We park in the open on the center stand, arm/ lock the bike, cover and have a GPS burried deep inside the bike that is not connected to the battery. Best,
Doc
I just ask my girlfriend to watch my bike- never had any problems...
---
2015 K1600GT Sport
2012 R1200GS
DRZ400s
Quote:
I just ask my girlfriend to watch my bike- never had any problems...
Does she have a sister?
---
Best,
Chuck
'14 GTL, Schrodie roundels, Dane lamps, Adaptiv TPX and Ricoh WG-M1 on RCU shelf, PDM 60, top case brake lamp w/Magic Strobe, Stebel Magnum horn, Lidlox, Kathy's Journey pannier organizer, BMW engine guards with Illium pegs, Nav V, C4 tip bars, Buck's arm rests, Wings/mini wings, RDL, and Chewy, the best dog ever.
Member
Join Date: Aug 2019
Posts: 72
Posting Rules

You may not post new threads

You may post replies

You may not post attachments

You may not edit your posts

---

HTML code is Off

---