My low beam Xenon headlight bulb burned out at around 82.000 miles. Tonight I changed it out with a new one. It took about 15 minutes to remove it and another 20 to install it. Here is the procedure I used.
The bulb is a Xenon D1S 35W which can be purchased on Amazon and other places. I chose to get one tonight at AutoZone. It was a Sylvania and cost $100.
First I removed the BMW roundel from the steering stem.
Then with a 1 1/16" or 27mm 6 point socket I removed the steering stem nut and washer.
I pulled the handle bar unit clear of the serrated stem and set it off to the right side of the padded tank.
I was now able to reach down and remove the large diameter dust cap from behind the light bulb. Pay attention to the orientation of the cap (open and close to the top) because there are some locking fingers along the edge that must engage a corresponding serration on the housing when put back into place.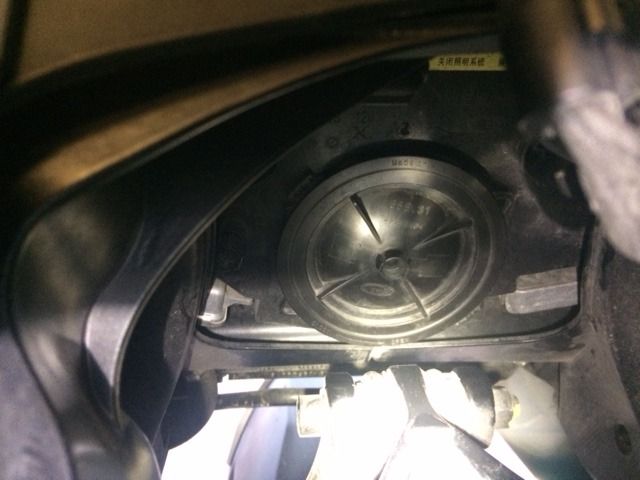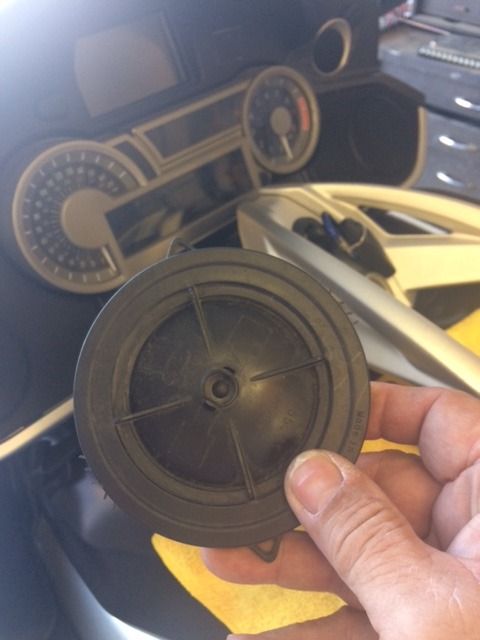 Reach down and pull the plug at the end of the silver braided wire loose from the bulbs square base. Now the tricky part, fiddle with the wire bail were it goes underneath the square base until it comes free. Swing it up and the bulb will come loose and you can remove it from the bike. This picture shows the wire bail after the bulb is removed so you can see how the bail locks into the housing.
Insert the new bulb CAREFULLY so that you don't damage it or touch the glass tube with your fingers. Once the bulb is in position snap the bail into place again by fiddling with your fingers. Then plug the silver wire back into the square bulb base also by feel. This is the phase that added more time than it took to remove the old bulb.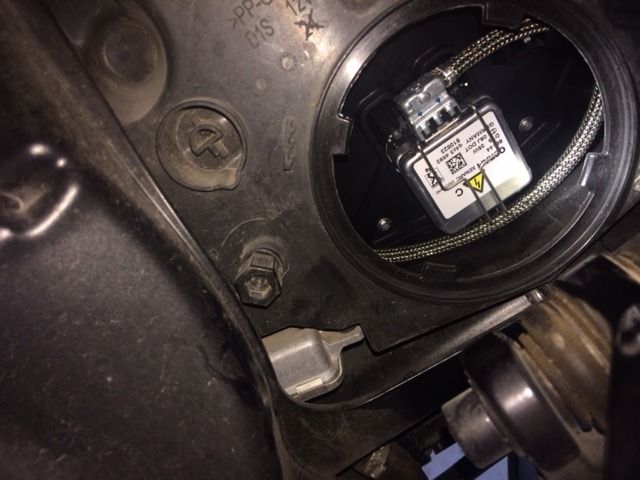 Install the dust cap back (correctly) and put the handlebar unit back in place making sure it lines up with your front wheel. Add some blue Loctite to the nut and torque it down. I couldn't find the torque spec but I got mine pretty tight with a breaker bar. Reinstall your BMW roundel. Turn on your bike and start it up to make sure the bulb works. Put your tools away and go have that beer because you just saved at least an hours labor cost at your dealer.